Substance-Free Rapid Relaxation
Clinically validated advanced mental recovery technology to improve sleep quality and stress recovery in minutes.
Backed by our 60-day 100% money back guarantee
TRY RISK FREE
A Deeper Sense of Calm
Experience a deeper sense of calm in minutes by directly activating your auricular vagus nerve.
View Testimonials
Safe and Effective
Developed by biomedical engineers and clinically validated across multiple IRB-approved placebo-controlled studies.
View Research
Relaxation You Can FEEL
VeRelief is a patented rapid-relaxation product integrating advanced neurotechnology and bioelectronics. VeRelief directly stimulates the vagus nerve to improve mental recovery and maximize mental health.
Precise vagus nerve activation.
Recover from a "fight or flight" response .
Calm a racing mind.
Improve sleep quality.
Explore
Designed With Purpose
Whether in the workplace, in the car, at home, or on the go, VeRelief was designed to always be there in your time of need.
Small and Portable
Wireless and Discreet
Robust Performance
Long Battery Life
No App Required
About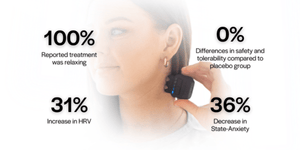 Clinically Proven
In multiple placebo-controlled studies, VeRelelief demonstrated safe and significant recovery from fight or flight symptoms with just a few minutes of use.
100% reported treatment was relaxing
36% decrease in state-anxiety
31% increase in HRV (rMSSD)
0 differences in safety and tolerability compared to placebo group
View Research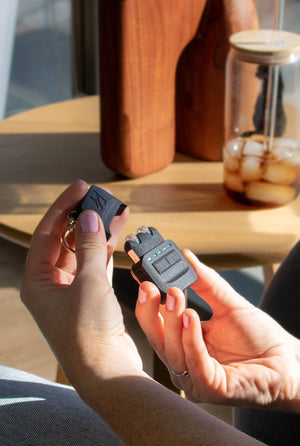 Power On
Remove cap to power on device and increase intensity to a comfortable setting
Apply Device
Apply the gel tips to the vagus nerve on the side of the neck just below the ear (tympanomastoid fissure)
Rest and Recover
Take a deep breath, embrace the sensations, and experience soothing relief fast
Our Customers and Clinicians Love VeRelief
The only other products or methods that provide a similar feeling as the VeRelief I know of are Wim Hoff and Cannabis. This is the best product I've ever tried.
James A.
Typically I can pinpoint where my anxiety is coming from and have learned how to manage it. Where VeRelief really helps me is when I'm feeling randomly anxious but don't know where it is coming from. It settles down my thoughts and helps me move through the anxiety so I can move on with my day.
Christiana J
VeRelief helps me calm down.
Mordy G.
After using VeRelief I am stress relieved and motivated.
Ian B.
It has stopped some panic attacks from getting worse and [felt like] I was melting into my bed. Complete mental and physical relaxation.
Case Study Patient with Panic Attacks
Telling y'all this is live changing. For anyone struggling with any forms of anxiety, intrusive thoughts, the inability to relax, etc., let me put you on something. I bought the verelief mini and I don't see a world where this is not needed.
Madi M
It was an out-of-body experience. I started thinking about other things while I was taking the test – we could use this for flight training, for people learning instrument training. I was having this 'aha' moment about how clear-headed I was. I seem to be sleeping better when using it at bedtime.
Greg S.
Anxiety is a physical thing, we carry stress physically in our necks. I put Hoolest's device on the nerve and it shakes the tension loose and relaxes it. Or if I have racing thoughts and use it before bed, it helps slow things down and clears them out. The device is a tool you can reach for that doesn't have the chemical consequences or ups and downs.
Cassandra J.
I have to get this into the hands of every one of my patients, because vagal nerve stimulation is so important to the overall picture of health. I know by stimulating that vagal nerve system, we can activate the "rest and digest" system which is opposite of the "fight or flight"
Dr. Russel T. DACNB
My clients have been asking me 'what do you think about the device?' and I'd say I like it. Its portable, its lightweight, its easy to use...I believe strongly in vagus nerve stimulation. I had a time where I was feeling really anxious and I got such great results using the device, it was really validating for me.
Sari L.,